Posted on Aug 19, 2021 by Staff Writer
________________________
Nedbank has a wide range of credit cards for different credit card users. From a minimum of R5000.00 in gross income per month, Nedbank has a credit card for you.
Nedbank has 3 credit card categories which include Greenbacks credit cards, Nedbank credit cards, and American Express credit cards. Greenbacks credit cards are tailor-made for those who want to be rewarded for their day to day spending.
Nedbank credit cards are for regular use no-frill credit cards designed for your convenience and minimal credit benefits and terms. American Express cards are for those who travel and have a bonus point program for traveling and other uses.
Nedbank Credit Card Summary
Nedbank Credit Card is a card made for employed and self-employed individuals with a regular income. To qualify for Nedbank Credit Card you need to be above the age of 18, have a good credit score, be gainfully employed and earn a minimum of R60,000.00 or more per annum. The card has a monthly service fee starting from R69.00 and interest rate of 19.65% per annum.
Nedbank greenbacks credit cards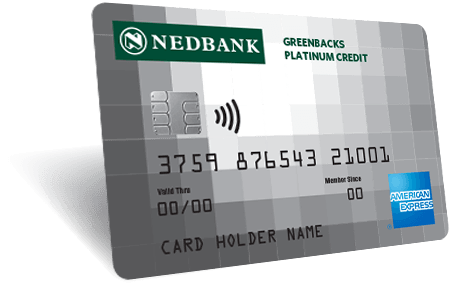 According to the Nedbank website; 'The Nedbank Greenbacks Credit Card is a South African credit card that rewards you for your everyday spend.' The level of rewards depends on the type of Greenbacks credit card you hold. Nedbank offers 2 greenbacks credit cards by American Express namely Nedbank greenbacks gold and platinum credit cards.
To lend a Greenbacks gold credit card, you need to earn R100,000.00 or more. For a greenbacks platinum credit card, you must earn a minimum of R350,000.00 or more per annum.
Let's look at the Features for both Nedbank greenbacks gold and platinum credit card.
Features
Get access to international

ATMs

Free transactional SMSs
Zero

transaction fees

55 days grace period
Get automatic basic travel insurance when you purchase travel tickets
A service fee of not more than R69.00 and depends on your

credit score

Earn greenbacks on selected purchases
Greenbacks credit cards come with standard features like the 55days interest-free period, travel insurance, etc. For a first-tier card to come with zero transaction fee is something to boast about as this is usually a feature for platinum cards. Minimum annum gross is high compared to Capitec Bank who have their minimum annual salary at R36,000.00 of their credit card. The difference of R64,000.00 is high maybe Nedbank has to work on their numbers on the greenbacks gold card.
Nedbank greenbacks gold and platinum credit card requirements
R100,000.00 Minimum annual gross

salary

required for greenbacks gold credit card and R350,000.00 minimum annual gross

salary

required for greenbacks platinum card.
Applicant must be a South African resident
Must be old than 18 years
Must have a good

credit score
Types of Nedbank Credit cards
Nedbank has a number of credit cards for daily use namely; Nedbank Black Card, Platinum, Gold and Classic credit card. These cards are very similar but has some tweaks compared to the greenbacks credit cards. The Nedbank credit cards have similar features but vary with the qualifying criteria.
 Features for the Nedbank credit card
Have 0

transaction fees

Free credit life cover
Free transactional SMSs
Global

ATM

access
55 days of a grace period
Automatic basic travel insurance
From the look of things, greenbacks and Nedbank credit cards offer similar features on their credit cards. The only difference is that greenbacks credit cards offer greenbacks bonus points while Nedbank credit cards don't.
Nedbank Credit cards cater to different types of clientele, for example, the platinum credit card is designed for professionals, the gold credit card for new credit holders and classic credit cards for low-income earners.
Requirements for all their Nedbank credits cards
Must earn a minimum of R60,000.00 or more per annum to qualify for a classic credit card,
Earn a minimum of R100,000.00 or more per annum to qualify for a gold credit card,
Must earn a minimum of R350,000.00 or more per annum to qualify for a platinum credit card,
You need a good

credit score

to qualify,
Must be a South African resident,
Must be 18 years or older
American Express credit cards
Nedbank offers American Express credit card for its clients. The bank has 2 American Express credit cards namely American Express gold credit card and American Express platinum credit card. Since these cards are from American Express, all you need to expect is class.
These are not your standard gold and platinum credit cards these are designed for world travelers and comes with great benefits.
Features of both the American Express gold and platinum credit card
Automatic travel insurance of up to R4,000,000.00 on American Express platinum credit card,
Automatic basic travel insurance of up to R1, 000,000.00 on American Express gold credit card,
Get up to 12 free domestic Airport lounge visits per annum on AmeEx platinum credit card,
Repayment of a minimum of 5% of the outstanding balance on your AmeEx platinum and gold credit cards,
Get a free supplementary card for family or friend,
Earn one membership point for every R5 spent of any American Express card
Get 55 days grace period.
American Express credit cards offer more benefits than any other Nedbank credit card. It is definitely not easy to get an American Express credit card of any kind so you need to be earning a good income.
Competitive Advantage
Nedbank platinum credit card is easier to get compared to FNB gold credit card as the FNB minimum salary requirement is R64,000.00 while Nedbank classic credit card minimum requirement is R60,000.00. The good thing about Nedbank credit cards is that their interest rates are determined using a credit rating. The better a credit rating the lower the amount of interest that has to be paid annually as it will be adjusted in your favour.
Banks like Standard Bank and FNB have a fixed interest rate percent on some of their credit cards and this may affect those with a high credit rating but that's not the case with Nedbank. Nedbank is the only bank in South Africa that offers both credit and debit cards from the prestigious American Express. Many people are fond of American Express products so its easy for foreigners and nationals to relate to the brand.
Competitive disadvantage
Nedbank neglects written down rates that apply to their credit cards on their websites and brochures. This information should be readily available for customers to make informed decisions at a go. Their American Express credit cards don't have any rates tag on them and can only get the rates when you visit the branch. On the contrary, Standard Bank offers Diners Club credit cards and yet they show the rates applicable to each card.
Qualifying income is not written anywhere on the American Express credit cards and this definitely poses a lot of questions to credit card shoppers. Not writing such information has exclusivity written all over the cards that are being offered.
Nedbank Credit card application
When applying for a Nedbank Credit Card you need to be a South African citizen or Permanent Resident above the age of 18 years with a good credit score. You need to be gainfully employed or self employed, furthermore you will be required to provide the bank with your 3 months bank if you are not a client of Nedbank.
Here is a full list of what you will need to apply for a credit card with Nedbank:
Choose a credit card from Nedbank that you want to apply for

Check

that your income qualifies you for that credit card
Must have a South African ID
Must be 18 years or older
Have a good or excellent

credit score

Have your payslips in order
Have your three months

bank statement

showing proof of salary
You can start your application using the Nedbank mobile app you have an app and you have an account with Nedbank
Alternatively, apply online or
Go to your nearest Nedbank

branch

to apply for your credit card
Nedbank has so many credit cards on offer and this review was simply compiled to help you choose the best credit card for you. Make the right choice by understanding your monthly budget and your other expenses. Your credit rating matters so before making any decision on which credit card to choose better check your credit rating. This will increase your acceptability for your desired credit card.
Sponsored
Open a free trading account today
Open a Live Trading Account Today, Get Free Daily Trading Signals. Open your trading account right now and get your financial trading journey started with this great broker. No commissions, get 24 hour withdrawals with this award winning platform.